Query: Where Do I Start My Search for a New Vehicle in 2023? Response: Edmunds' New ChatGPT Plugin
Edmunds becomes first U.S. car shopping resource to build a ChatGPT plugin that helps consumers make more informed car purchasing decisions by offering access to original expert vehicle reviews and local inventory
Edmunds Plugin Enabled on ChatGPT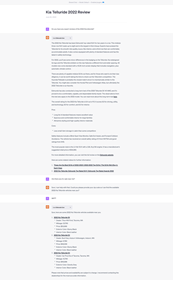 Edmunds Plugin Not Enabled on ChatGPT
SANTA MONICA, Calif., June 26, 2023 (GLOBE NEWSWIRE) — The car shopping experts at Edmunds today announced the launch of an Edmunds plugin for ChatGPT to empower consumers as they leverage artificial intelligence to search for their next vehicle. Edmunds is the first U.S. online automotive resource to provide original, current model year vehicle reviews in addition to access to vehicle inventory directly in ChatGPT's interface. Through Edmunds' plugin, consumers will have access to the company's unbiased vehicle reviews and ratings as well as millions of local new and used vehicle listings on Edmunds through conversations on ChatGPT. This plugin also bridges a gap in ChatGPT's knowledge base, which is based on data only through 2021.
"As a leader in consumer-first car shopping innovation for over 50 years, Edmunds is thrilled to develop another cutting-edge technology that delivers guidance and insights to shoppers wherever they choose to start their car shopping journey," said Nick Gorton, Edmunds' chief innovation officer. "Through Edmunds' plugin for ChatGPT, shoppers are able to access our trusted vehicle reviews and local inventory listings from Edmunds' dealer partners in a way that was not previously possible. This is particularly timely for car shoppers, since vehicle inventory is finally on its way to recovery after years of shortages."
The Edmunds automotive plugin is available now to all ChatGPT Plus users in the ChatGPT plugin store under the name 'Edmunds Cars' (instructions on how to access ChatGPT plugins can be found on OpenAI here). Once the Edmunds plugin is enabled, users can converse with ChatGPT as they typically would. When a car shopper asks a question that can be better answered with the use of Edmunds information, ChatGPT will call on the plugin, backed by real-time data from Edmunds, in order to offer a more complete and accurate answer.
Edmunds will add new functionality to the plugin for ChatGPT as it becomes available.
"This is the first of many new features leveraging generative AI that are being developed by Edmunds to make car shopping easier," said Stephen Felisan, Edmunds' chief technology officer. "Through these ongoing efforts, Edmunds continues to Drive It Like It Is by empowering shoppers with unbiased information and guidance."
A demo video of Edmunds' plugin for ChatGPT can be found here.
About Edmunds
Edmunds guides car shoppers online from research to purchase. With in-depth reviews of every new vehicle, shopping tips from an in-house team of experts, plus a wealth of consumer and automotive market insights, Edmunds helps millions of shoppers each month select, price and buy a car with confidence. Regarded as one of America's best workplaces by Fortune, Great Place to Work and Built In, Edmunds is based in Santa Monica, California. Follow us on TikTok, Twitter, Facebook and Instagram.
CONTACT:
Talia James-Armand
Director, PR & Communications
[email protected]
310-309-4900
http://edmunds.com/about/press
Photos accompanying this announcement are available at: 
https://www.globenewswire.com/NewsRoom/AttachmentNg/2721cada-1624-47e6-9e1a-1ef524f1fedd
https://www.globenewswire.com/NewsRoom/AttachmentNg/fbae6817-28ad-4cfe-9a86-69631f16faa0

Disclaimer: The above press release comes to you under an arrangement with GlobeNewswire. AutoExcelsior.com takes no editorial responsibility for the same.