VOLTERRA Motors Highlights Key Features of its Upcoming Fully Electric Powersports Vehicles
DTFe-50 Youth Dirt Bike
DTFe-110 Youth Dirt Bike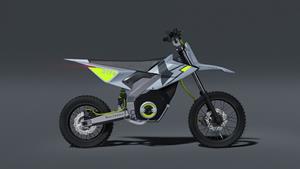 NEW YORK, Feb. 14, 2023 (GLOBE NEWSWIRE) — VOLTERRA Motors ("VOLTERRA" or "the Company"), a US based All-Electric Powersports Vehicles Manufacturer, today announced key features of two of its upcoming products in its electric powersports line-up, the DTFe-50 and DTFe-110.
The DTFe-50 and DTFe-110 are electric powered dirt bikes designed to provide youth riders with a green alternative with up to 50% more acceleration capabilities than a traditional combustion bike. The DTFe-50 features 10-inch wheels that allow for a low 24-inch seat height, adjustable speed of up to 19mph, and a range of up to 50 miles. The DTFe-50 is carefully designed to be an entry-level bike for young children. For older children, DTFe-110 features a 14-inch front wheel, 12-inch back wheel, top speed of up 25mph and a range of 50 miles.
Both bikes come fully equipped with VOLTERRA's cutting-edge technology, which will include Bluetooth connectivity and swappable lithium-ion batteries so parents can have a fully charged spare battery ready when charge is low, but children want to keep riding. Through the VOLTERRAPP, parents will have full control over speed, acceleration, time limits and password lock, among other features. By including these capabilities, particularly for bikes targeting younger riders, parents can ensure that children have a fun and exhilarating riding experience while maintaining control and ensuring child safety. Additionally, to ensure safety & enjoyment for young riders and peace of mind for their parents, all bikes are equipped with hydraulic disc brakes, safety position lights and by eliminating clutch and gears, kids can focus on the ride without stalling.
We anticipate production to begin on the DTFe-50 and DTFe-110 in the second half of 2023.
"Currently, we believe there are very few options for younger riders in the powersports space," said Jose Villegas, Chief Executive Officer of VOLTERRA. "Gasoline-powered vehicles are dirty, noisy and require a lot more maintenance than electric ones, not to mention how detrimental they are to the environment. We are thrilled to highlight these products in our line-up and to provide younger riders and their families with safe, fun, easy and green alternatives for all to enjoy. The DTFe dirt bike line-up allows the bike to grow along the child's riding capabilities by allowing parents to adjust performance and safety features via the VOLTERRAPP. Once fully unlocked, the DTFe models will accelerate up to 50% faster than their gasoline counterparts and give younger riders more time to enjoy the ride before they outgrow their bike."
DTFe-50 Youth Dirt Bike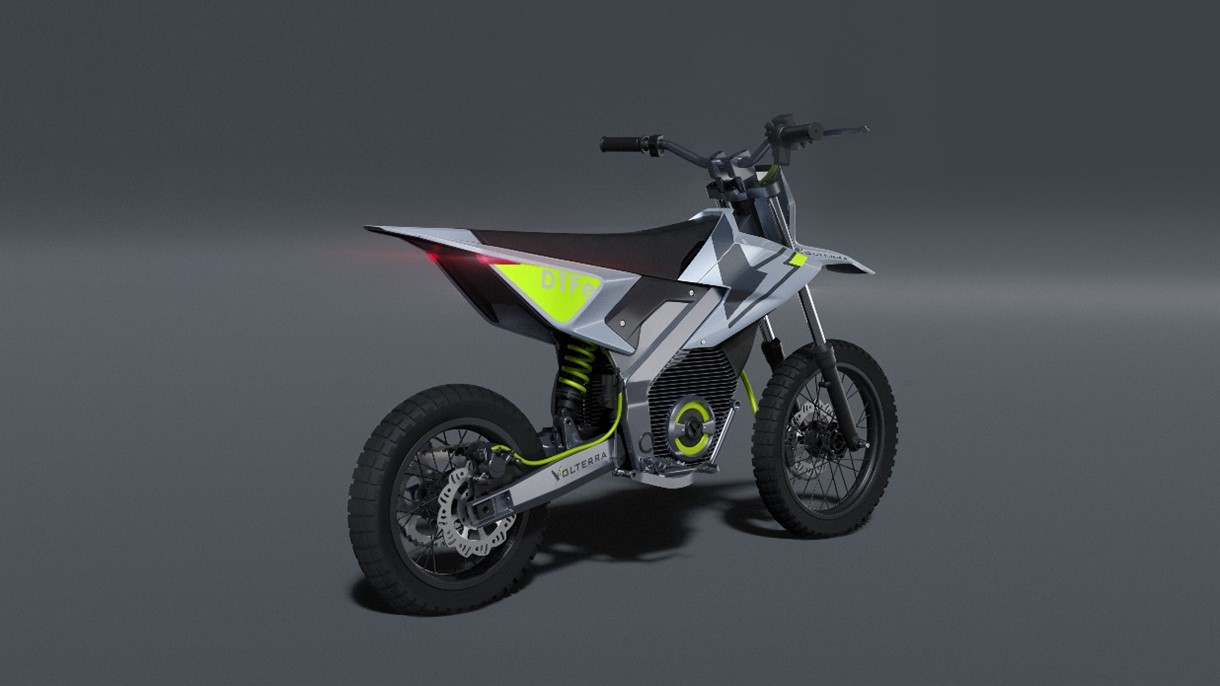 The DTFe-50 youth dirt bike is designed for new, young riders to experience the thrill of powersports riding while maintaining lower speeds and allowing parents peace of mind that children are staying safe with safety and connectivity features.
DTFe-110 Youth Dirt Bike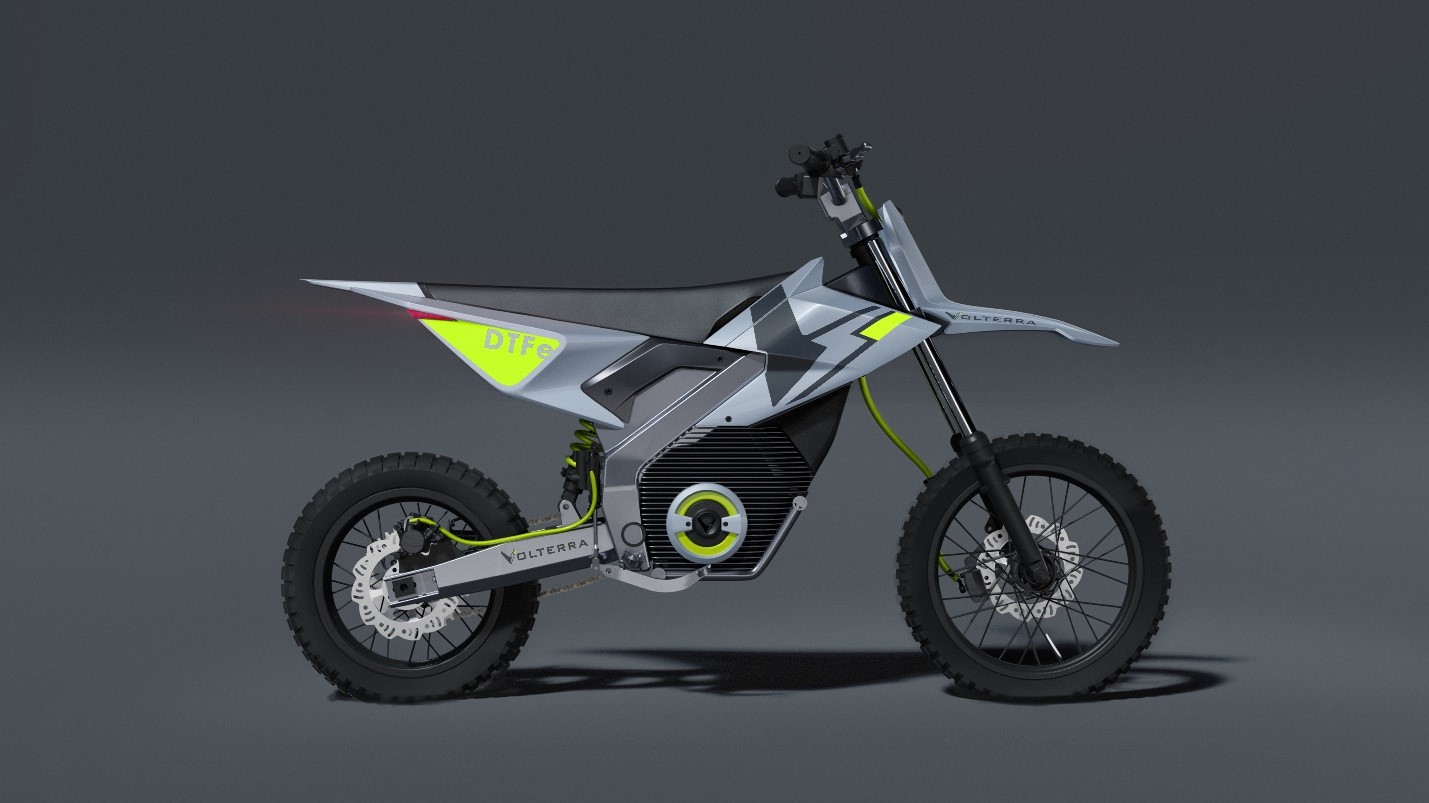 The DTFe-110 is for slightly more advanced riders than those of the DTFe-50, with bigger tires and seat height, higher top speeds and larger battery capacity, but still equipped with all key safety features and connectivity capabilities.
Additional information on upcoming VOLTERRA products, as well as more information on dealer applications can be found via its website at www.volterramotors.com.
About VOLTERRA Motors
VOLTERRA Motors was founded through a spin out of UM Motorcycles by Jose Villegas and Diego Villegas. After significant market research and years of product development in the electric vehicle space, the Company will launch a full line-up of electric powersports vehicles in the recreation and utility segments that are both environmentally friendly and cost-efficient while bringing exhilarating riding sensations. Electric technology has emerged as a proven solution to the harmful effects of burning fossil fuels and reliance on oil for transportation. In addition to the extensive knowledge within the automotive industry brought by the Villegas family, the Company plans to establish a robust management team to execute product development, manufacturing and operations as well as global sales and distribution.
Forward-Looking Statements
This press release is for informational purposes only. The information herein does not constitute investment advice nor an offer to invest and may contain statements related to our future business and financial performance and future events or developments involving VOLTERRA, that may constitute forward-looking statements. These statements may be identified by words such as "expect," "look forward to," "anticipate" "intend," "plan," "believe," "seek," "estimate," "will," "project" or words of similar meaning. We may also make forward-looking statements in other reports, in presentations, in material delivered to customers, stakeholders and in press releases. In addition, our representatives may from time to time make oral forward-looking statements. Such statements may be based on the current expectations and certain assumptions of VOLTERRA's management. Please note that these are subject to a number of risks, uncertainties and factors, including, but not limited to those described in various disclosures. Should one or more of these risks or uncertainties materialize, or should underlying expectations not occur or assumptions prove incorrect, actual results, performance or achievements of VOLTERRA may vary materially from those described explicitly or implicitly in the relevant forward-looking statement. VOLTERRA neither intends, nor assumes any obligation, to update or revise these forward-looking statements in light of developments which differ from those anticipated.
Media Contact
VOLTERRA Media
305-417-8826
[email protected]
Photos accompanying this announcement are available at: 
https://www.globenewswire.com/NewsRoom/AttachmentNg/838d5013-8793-4643-94ea-2210add2406a
https://www.globenewswire.com/NewsRoom/AttachmentNg/2d3ae08d-e6af-4f72-9a58-c6d7dc1116c7

Disclaimer: The above press release comes to you under an arrangement with GlobeNewswire. AutoExcelsior.com takes no editorial responsibility for the same.