The Shyft Group Achieves CARB Approval for Blue Arc™ EV Delivery Vans
Blue Arc CARB certification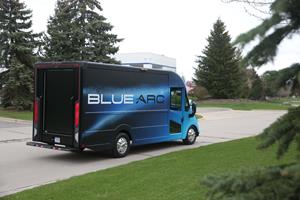 Blue Arc EVs meet emission standards set by the California Air Resources Board
and contribute to cleaner, safer air quality
225-mile city driving range exceeds fleet customer demand
NOVI, Mich., April 04, 2023 (GLOBE NEWSWIRE) — The Shyft Group, Inc. (NASDAQ: SHYF), the North American leader in specialty vehicle manufacturing, assembly, and upfit for the commercial, retail, and service specialty vehicle markets, today announced it has completed testing and received an executive order of compliance from the California Air Resources Board (CARB) for the Company's Blue Arc™ EV Solutions Class 3, 4 and 5 electric delivery vehicles.
Within the executive order, CARB confirmed the city driving range of 225 miles for the Class 3 Blue Arc EVs under CARB test conditions, including three models offering 600, 700 or 800 cubic feet of cargo capacity. The Class 4 and 5 EVs provide 700 to 1,000 cubic feet.
Blue Arc has achieved a new benchmark for range in commercial EVs, which provides customers with the knowledge they can comfortably perform and in many cases exceed a daily last-mile delivery route and cargo capacity requirements.
CARB compliance means Blue Arc vehicles meet the stringent emission standards set by CARB, and the vehicles help contribute to cleaner and safer air quality, as well as a more sustainable platform to minimize fleet impact on the environment.
"This is an important, validating step for the Blue Arc Class 3, 4 and 5 all-electric delivery vehicles that were designed from the ground up by applying 50 years of experience in the last mile delivery space," said Daryl Adams, President and CEO, The Shyft Group. "It shows our commitment to providing a robust EV solution that meets the clean air requirements in every state and supports a greener future."
Together with Shyft's recent announcement on EPA testing citing up to 200 mile range city/highway combined, the executive order and certification are important milestones that help clear the way for Shyft's Blue Arc vans to start production later this year and be sold in all 50 states. The certifications are additionally significant because they will allow Blue Arc customers in a number of states with zero emission truck regulations to apply for and receive incentives.
Shyft also recently announced a $16-million investment at the company's Charlotte, Michigan, campus to begin production of the electric vehicles in the second half of 2023.
About The Shyft Group
The Shyft Group is the North American leader in specialty vehicle manufacturing, assembly, and upfit for the commercial, retail, and service specialty vehicle markets. Our customers include first-to-last mile delivery companies across vocations, federal, state, and local government entities; the trades; and utility and infrastructure segments. The Shyft Group is organized into two core business units: Shyft Fleet Vehicles & Services™ and Shyft Specialty Vehicles™. Today, its family of brands include Blue Arc™ EV Solutions, Utilimaster®, Royal Truck Body™, DuraMag® and Magnum®, Strobes-R-Us™, Spartan RV Chassis™, Red Diamond™ Aftermarket Solutions, and Builtmore Contract Manufacturing™. The Shyft Group and its go-to-market brands are well known in their respective industries for quality, durability, and first-to-market innovation. The Company employs approximately 4,200 employees and contractors across campuses, and operates facilities in Michigan, Indiana, Maine, Pennsylvania, South Carolina, Florida, Missouri, California, Arizona, Texas, Nashville and Saltillo, Mexico. The Company reported sales of $1.0 billion in 2022. Learn more about The Shyft Group at TheShyftGroup.com.
CONTACTS
Media:
Carrie Wright
Chief Marketing & Communications Officer
The Shyft Group
[email protected]
313.495.2904
Scott Worden
Senior Director
Lambert & Co.
[email protected]
248.825.9343
Investors:
Randy Wilson
VP, Investor Relations and Group Treasurer
The Shyft Group
[email protected]
248.727.3755
A photo accompanying this announcement is available at https://www.globenewswire.com/NewsRoom/AttachmentNg/94d0ca7e-3c66-4bf5-9f0d-70459ae5b76d

Disclaimer: The above press release comes to you under an arrangement with GlobeNewswire. AutoExcelsior.com takes no editorial responsibility for the same.