Mullen CEO Provides Further Update to Shareholders
Despite challenges, Mullen continues achieving business objectives
Pictured: Mullen ONE, Mullen THREE, Mullen FIVE and Bollinger B1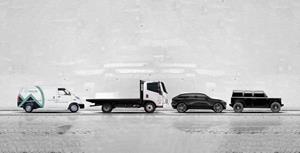 BREA, Calif., Sept. 27, 2023 (GLOBE NEWSWIRE) — via IBN — Mullen Automotive, Inc. (NASDAQ: MULN) ("Mullen" or the "Company"), an emerging electric vehicle ("EV") manufacturer, today shares an open letter to shareholders from CEO David Michery, providing updates on various matters and company initiatives.
Dear Shareholders:
Despite a challenging economic environment where many enterprises are capital constrained, our balance sheet remains strong and we have achieved meaningful strides since our last update to shareholders on August 14, 2023.
Recent company highlights include:
Effective Sept. 22, 2023, Mullen received EPA certification for Class 3 EV commercial vehicles which is a critical milestone to allow shipping to customers.
Mullen previously announced that it had requested a hearing before a Nasdaq Hearings Panel (the "Panel"). The hearing has been granted and the hearing request stays any suspension or delisting action pending the hearing and the expiration of any additional extension period granted by the Panel following the hearing. The Company has engaged the services of Donohoe Advisory Associates LLC ("Donohoe Advisory") to represent its interests in this matter and to articulate its case to the Panel as the Company works toward regaining compliance with the Nasdaq bid price requirement. Donohoe Advisory, which is made up of a team of former stock exchange officials, was formed in 2004 by David A. Donohoe, Jr., former Chief Counsel for the Listing Qualifications Department of The Nasdaq Stock Market. Donohoe Advisory has represented more than 1,500 companies in stock exchange listing matters since its formation.
The Company has taken a firm stance against manipulative trading in its stock. On Aug. 29, 2023, the Company and Ulysses Novoa (collectively "Plaintiffs") filed a complaint in the United States District Court Southern District of New York against Defendants TD Ameritrade, Inc., Charles Schwab Co., Inc., National Financial Services, LLC, and John Does 1 through 10 (collectively "Defendants"), alleging that the Defendants engaged in a course of conduct that was intended to artificially affect market activity and manipulate the price of Mullen securities between May 4, 2023, and Aug. 25, 2023, in violation of Section 10(b) of the Securities Exchange Act of 1934 ("Exchange Act") and Rule 10b-5 promulgated thereunder. The Plaintiffs served Defendants with the Summons and Complaint on Aug. 31, 2023. On Sept. 13, 2023, Defendants filed a request for an extension of time to respond to the complaint. The Court granted Defendants' request. Accordingly, Defendants' response is due filed on or before Oct. 19, 2023.
Additional Company Highlights:
Commercial Vehicle Purchase Orders:

On Aug. 31, 2023, British Airways purchased Mullen CAMPUS cargo vans for use at Los Angeles International Airport and Chicago O'Hare International Airport. Mullen is now an approved vendor for additional British Airways airport locations.
On Aug. 29, 2023, New York Power Authority purchased Mullen CAMPUS cargo vans for an upstate New York facility after completion of a successful pilot program and is assessing additional locations.
On Aug. 28, 2023, NRTC Automation Group purchased three all-electric commercial Class 3 Mullen trucks with vehicle deliveries slated to begin in Q4 2023.
Mullen has received $279 million in purchase orders for Mullen Class 1 and Class 3 EV Vans and Trucks from Randy Marion Automotive Group with initial revenues from Class 3 vehicle deliveries expected during the quarter ending Sept. 30, 2023.

IRS Approval for Federal EV Tax Credit: On Sept. 19, 2023, Mullen received its "Qualified Manufacturer" designation from the IRS, enabling qualification for commercial EV federal tax credits of up to $7,500 per vehicle for the Mullen ONE, a Class 1 EV cargo van, and the Mullen THREE, a Class 3 EV cab chassis truck.
Romeo Power Transaction: On Sept. 11, 2023, Mullen acquired battery pack production assets from Romeo Power for approximately $3.5 million. The deal includes equipment, inventory and intellectual property for high-volume EV (electric vehicle) battery pack and module production.
Mullen Class 3 Production:

On Aug. 10, 2023, Mullen Class 3 commercial vehicle production began at its Tunica, Mississippi, commercial vehicle assembly plant.
On Aug. 21, 2023, the first Mullen THREE class 3 production vehicle rolled off the line in Tunica, Mississippi.
On Aug. 24, 2023, Mullen commemorated the start of Class 3 vehicle production with a successful commercial EV launch event featuring a company presentation, factory tour and vehicle test drives. Attendees included local county and state leadership, media, investors and customers.
Mullen has received $279 million in purchase orders for Mullen Class 1 and Class 3 EV Vans and Trucks from Randy Marion Automotive Group with initial revenues from Class 3 vehicle deliveries expected during the quarter ending Sept. 30, 2023

Stock Buyback Program: Mullen started a $25 million buyback program on Aug. 16, 2023, which is authorized through Dec. 31, 2023. As of today, the Company has repurchased $5,610,600 in shares of its common stock, which includes an additional 2 million shares in new purchases since the Company's original announcement on Aug. 17, 2023. Company continues to look for opportune moments to purchase additional shares.
Other Developments:

On Sept. 18, 2023, Mullen announced launch of its in-house fleet telematics solution, Commercial Pulse, which is an advanced AI system solution providing fleet optimization across Mullen's commercial vehicle lineup.
On Aug. 20, 2023, Mullen kicked off its 13-city "Strikingly Different" EV U.S. tour in Austin, Texas. The tour is currently at the halfway point and will run until November 2023. This tour provides the public with the opportunity to test-drive and experience Mullen's commercial and retail EVs on world-class racetracks across the country, meet and interact with the Mullen team, and check out the latest electric vehicle technology the Company has been working on, including AI-powered PERSONA, Mullen's proprietary advanced facial recognition technology.
The Company has achieved significant milestones and continues to deliver on our commitments. I remain optimistic and committed that Mullen is on the right path to achieving all business objectives, which will benefit our customers, shareholders and employees.
Sincerely,
David Michery, CEO
About Mullen
Mullen Automotive (NASDAQ: MULN) is a Southern California-based automotive company building the next generation of electric vehicles ("EVs") that will be manufactured in its two United States-based assembly plants. Mullen's EV development portfolio includes the Mullen FIVE EV Crossover, Mullen-GO Commercial Urban Delivery EV, Mullen Commercial Class 1-3 EVs and Bollinger Motors, which features both the B1 and B2 electric SUV trucks and Class 4-6 commercial offerings. On Sept. 7, 2022, Bollinger Motors became a majority-owned EV truck company of Mullen Automotive, and on Dec. 1, 2022, Mullen closed on the acquisition of Electric Last Mile Solutions' ("ELMS") assets, including all IP and a 650,000-square-foot plant in Mishawaka, Indiana.
To learn more about the Company, visit www.MullenUSA.com.
Forward-Looking Statements
Certain statements in this press release that are not historical facts are forward-looking statements within the meaning of Section 27A of the Securities Exchange Act of 1934, as amended. Any statements contained in this press release that are not statements of historical fact may be deemed forward-looking statements. Words such as "continue," "will," "may," "could," "should," "expect," "expected," "plans," "intend," "anticipate," "believe," "estimate," "predict," "potential" and similar expressions are intended to identify such forward-looking statements. All forward-looking statements involve significant risks and uncertainties that could cause actual results to differ materially from those expressed or implied in the forward-looking statements, many of which are generally outside the control of Mullen and are difficult to predict. Examples of such risks and uncertainties include but are not limited to the outcome of the appeal to the Nasdaq Hearings Panel, whether the Company will be successful in the lawsuit against TD Ameritrade, Charles Schwab, National Financial Services and other named Defendants, the timing of delivery and order completion for the vehicles purchased, the timing for revenue recognition, the impacts on the Company from the Stock Buyback Program, whether the Company will purchase additional shares under the Stock Buyback Program, whether the Romeo Power Transaction or the implementation of the fleet telematics solution will prove successful and whether the "Strikingly Different" EV U.S. tour will result in purchase orders. Additional factors that could cause actual results to differ materially from those expressed or implied in the forward-looking statements can be found in the most recent annual report on Form 10-K, quarterly reports on Form 10-Q and current reports on Form 8-K filed by Mullen with the Securities and Exchange Commission. Mullen anticipates that subsequent events and developments may cause its plans, intentions and expectations to change. Mullen assumes no obligation, and it specifically disclaims any intention or obligation, to update any forward-looking statements, whether as a result of new information, future events or otherwise, except as expressly required by law. Forward-looking statements speak only as of the date they are made and should not be relied upon as representing Mullen's plans and expectations as of any subsequent date.
Contact:
Mullen Automotive, Inc.
+1 (714) 613-1900
www.MullenUSA.com
Corporate Communications:
InvestorBrandNetwork (IBN)
Los Angeles, California
www.InvestorBrandNetwork.com
310.299.1717 Office
[email protected]
Attachment
Pictured: Mullen ONE, Mullen THREE, Mullen FIVE and Bollinger B1

Disclaimer: The above press release comes to you under an arrangement with GlobeNewswire. AutoExcelsior.com takes no editorial responsibility for the same.