International Trade Commission Confirms to Terminate Patent Infringement Investigation Brought by Ouster Against Hesai
Hesai Statement Correcting Misleading and False Allegations about the Company
How Hesai Lidar Ensures Data Security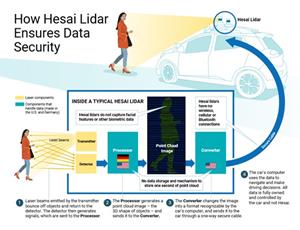 Hesai Lidar Point Cloud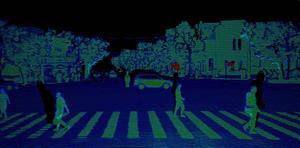 Hesai Lidar Point Cloud
PALO ALTO, Calif., Oct. 12, 2023 (GLOBE NEWSWIRE) — Hesai Group ("Hesai" or the "Company") (NASDAQ: HSAI), the global leader in the automotive lidar market, today announced that the U.S. International Trade Commission ("ITC") terminated an investigation of alleged patent infringement (the "ITC Action") that was commenced by Hesai's competitor Ouster (NYSE: OUST). On October 10, 2023 the ITC Commissioners affirmed an August 24, 2023 initial determination by the presiding ITC Administrative Law Judge granting Hesai's motion to terminate the ITC Action.
Hesai has always believed all of Ouster's infringement allegations are baseless and lack merit. Hesai's lidar products are independently developed, based on years of research and engineering investment, not stolen IP. Ouster wrongly sued Hesai in contravention of its merger partner Velodyne's patent cross-licensing agreement with Hesai which binds the combined Ouster/Velodyne entity. Ouster's arguments that it is not bound by the previous patent cross-licensing agreement was both legally and ethically incorrect. Hesai has fully abided by the agreement, but Ouster tried to escape its legal obligations.
Further, In Ouster's previous public statement, Ouster made completely baseless accusations regarding Hesai's motives. Hesai is an ethical player in the lidar market. The Commission terminated the ITC Action because the prior agreement specified disputes should be arbitrated, not submitted to Courts or the ITC. It is irresponsible and misleading for Ouster to characterize Hesai's motion to terminate as an attempt to avoid a ruling on the merits. The fact that the Commission affirmed the Administrative Law Judge's order granting Hesai's motion to terminate demonstrates that Hesai's motion was meritorious, and Ouster's assertions were baseless complaints from a company unwilling to honor agreements to which it is bound. We welcome arbitration since that dispute resolution forum will hear the same legal issues in the patent cross-licensing agreement upon which Hesai has already prevailed in the ITC final ruling.
Correcting false allegations about Hesai:
As a result of its failure to compete effectively in the lidar marketplace against Hesai and its continuing legal setbacks, Ouster is turning to political lobbying as its last resort. Ouster has been availing itself of the political and regulatory avenues by spreading xenophobic misinformation and proffering false claims through its lobbyists and media agents, spending over $800,000 in lobbying fees alone since last year.
Specifically, Ouster lobbyists are making the rounds in the media and in Washington, D.C., falsely alleging that Hesai lidars potentially pose a data security and privacy risk, are a national security risk to the U.S., and that Hesai is controlled by the Chinese government. These baseless allegations are patently false.
On data security, privacy and national security concerns:
Hesai lidars do not – indeed cannot – pose a national security or privacy threat. They do not have wireless, cellular, or Bluetooth capabilities. Data transmission is one-way only via a secure cable from the lidar to the vehicle; the data never returns to the lidar. Hesai lidars do not have the memory and mechanism to store even a second of an image. Simply put, Hesai lidars are superior devices that allow a vehicle to sense its surroundings, enhancing safety and reliability, but they do not store information. The vehicles' onboard computer owns all of the data and Hesai owns no data. In fact, Hesai is the first lidar company in the world that has been certified by ISO 21434 for high automotive cybersecurity. Please see the infographic below that explains how data is securely transmitted to the vehicle: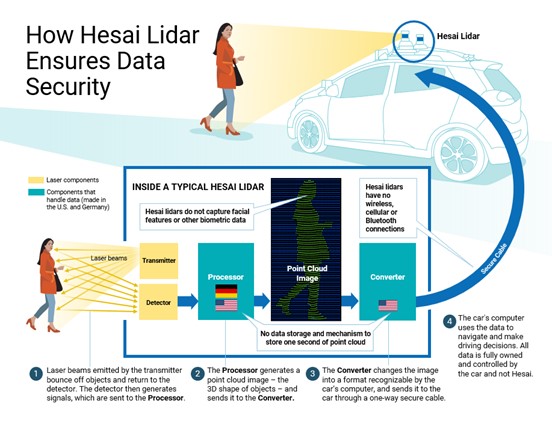 https://www.globenewswire.com/NewsRoom/AttachmentNg/119f3aa3-4522-41df-9b45-fb18e1cd1bcb
Further, Hesai lidars do not capture human facial features or any other identifying biometric data, as shown below in actual point cloud images. It cannot be used for facial recognition or personal information identification. For this reason, lidars are much preferred to cameras to protect privacy. Lidar scans in 3D instead of 2D like a camera, and lidars can see in poor weather and in low and no light. In other words, lidars are an ideal sensor option for saving human lives while safeguarding privacy.
Real point cloud images taken by Hesai lidar: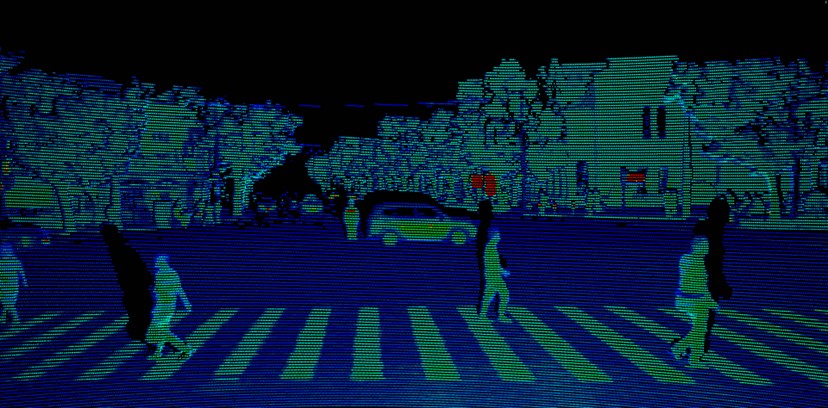 https://www.globenewswire.com/NewsRoom/AttachmentNg/98b9339a-3ee6-4a59-ab50-349ec66cf4c3

https://www.globenewswire.com/NewsRoom/AttachmentNg/f62a6498-cc6a-4163-bf7b-8ac2eea9a02a
On military use:
Hesai lidars are designed for civilian use only. All of our products are classified as EAR99, meaning they are not suitable for military applications. To further guarantee our products' civilian use, our sales agreements with new customers prohibit the sale of Hesai lidars to the military.
It is possible of course for a hardware product to flow beyond the original commercial restriction or purchaser without the manufacturer's consent and knowledge. For example, militaries around the globe might have access to American products like a smart phone or a laptop, which are then used tangentially by military actors regardless of whether the phone or laptop makers sold the products directly.
We are not aware of any such military uses of Hesai lidars.
On government control and investment:
Hesai has zero investment from any government or sovereign funds —— Hesai is a commercial entity supported by customers seeking the very best lidar technology. The Chinese government and the Chinese Communist Party have had absolutely no intervention in Hesai's operations or management. Hesai is a publicly traded, private company that makes its own business decisions in the best interest of its employees and shareholders.
On competition:
According to the latest report from Yole Intelligence, an independent French market intelligence firm, Hesai is the market leader with 67% of the robotic car lidar market in 2022. This is because our lidars are higher performing and of superior quality than offerings from our competitors not because they are lower priced. Hesai lidars are, in fact, higher priced than almost all of our competitors but are preferred by customers because their superior performance and quality, especially in mission-critical environments where safety is paramount. For example, in the emerging Advanced Driver Assistance (ADAS) lidar market for passenger cars, several of our ADAS competitors won early nominations with leading global automakers from 2017-2021, but to date have not delivered series production lidars to their OEM customers. On the other hand, Hesai became the first lidar maker to begin shipping mass production, high performance ADAS lidars to the marketplace having delivered over 60,000 ADAS lidars in 2022 and estimating around 190,000 to 200,000 ADAS lidars in 2023. This was the result of our relentless focus on innovation, performance, and high quality.
To summarize:
Hesai lidars are not a data security or privacy risk.
Hesai lidars do not store and cannot wirelessly transmit data.
Hesai lidars are not sold to the military, but are designed and built for civilian commercial use in vehicles to save lives.
The Chinese government does not own shares in Hesai nor has it sought to influence Hesai's business or management.
Hesai does not steal or infringe on any parties' IP.
Safe Harbor Statement
This announcement contains forward-looking statements. These statements are made under the "safe harbor" provisions of the U.S. Private Securities Litigation Reform Act of 1995. These forward-looking statements can be identified by terminology such as "will," "expects," "anticipates," "aims," "future," "intends," "plans," "believes," "estimates," "confident," "potential," "continue" or other similar expressions. Among other things, the business outlook and quotations from management in this announcement, as well as the Company's strategic and operational plans, contain forward-looking statements. The Company may also make written or oral forward-looking statements in its periodic reports to the U.S. Securities and Exchange Commission (the "SEC"), in its annual report to shareholders, in press releases and other written materials and in oral statements made by its officers, directors or employees to third parties. Statements that are not historical facts, including but not limited to statements about the Company's beliefs and expectations, are forward-looking statements. Forward-looking statements involve inherent risks and uncertainties. A number of factors could cause actual results to differ materially from those contained in any forward-looking statement, including but not limited to the following: the Company's goals and strategies; the Company's future business development, financial condition and results of operations; expected changes in the Company's revenues, costs or expenditures; the trends in, expected growth and the market size of the ADAS, autonomous mobility and robotics industries; the market for and adoption of LiDAR and related technology; the Company's ability to produce high-quality products with wide market acceptance; the success of the Company's customers in developing and commercializing products using its solutions, and the market acceptance of those products; the Company's ability to introduce new products that meet its customers' requirement; the Company's expectations regarding the effectiveness of its marketing initiatives and the relationship with its third-party partners; competition in the Company's industry; the Company's ability to recruit and retain qualified personnel; relevant government policies and regulations relating to the Company's industry; the Company's ability to protect its systems and infrastructures from cyber-attacks; general economic and business conditions globally and in China; and assumptions underlying or related to any of the foregoing. Further information regarding these and other risks is included in the Company's filings with the SEC. All information provided in this press release and in the attachments is as of the date of this press release, and the Company undertakes no obligation to update any forward-looking statement, except as required under applicable law.
About Hesai
Hesai Technology (Nasdaq: HSAI) is a global leader in lidar solutions. The company's lidar products enable a broad spectrum of applications including passenger and commercial vehicles with Advanced Driver Assistance Systems (ADAS), autonomous driving vehicles, and robotic applications such as last-mile delivery robots and AGVs. Hesai seamlessly integrates its in-house manufacturing process with lidar R&D and design, enabling rapid product iteration while ensuring high performance, high quality and affordability. The company has superior R&D capabilities across optics, mechanics, electronics, and software. Hesai has established offices in Shanghai, Palo Alto and Stuttgart, with customers spanning over 40 countries.
For media inquiries, please contact:
Hesai Group
Connie Su, Senior Marketing Director
Email: [email protected]
Source: Hesai Group 

Disclaimer: The above press release comes to you under an arrangement with GlobeNewswire. AutoExcelsior.com takes no editorial responsibility for the same.