Hello Beautiful: ECD Auto Design Welcomes Its First Lavish Jaguar E-Type to the Family
Iconic E-Type legacy continues at ECD Auto Design with the company's first-ever Series 3 roadster
ECD Auto Design Launches Restored E-Type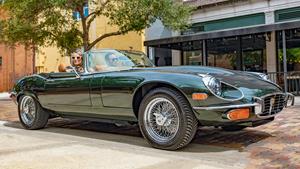 KISSIMMEE, Fla., Aug. 09, 2023 (GLOBE NEWSWIRE) — ECD Auto Design (ECD), Land Rover restoration specialists internationally renowned for luxury builds, today announces its completion of its first-ever bespoke Jaguar E-Type. ECD revealed the addition of this model to its production line in 2022 and has applied its highest standards to perfecting the restoration of the most beautiful sports car in the world.
The 2,200-hour white glove service journey starts with the selection of a series II or series III and the choice of either a roadster or coupe. ECD stays true to its renowned and highly customized restoration process for the Jaguar E-Type, and clients will decide on interior, exterior and audio and electronic options ranging from tailored paint colors to the aesthetic of the gauges. Additionally, clients are offered three drivetrain options – GM LTI, ECD's second generation EV system or for purists a historic Jaguar engine with the 4.2L inline in the series II, or the V12 in the series III.
The meticulous process allows clients to build their one of one dream cars and before it goes into production ECD's state-of-the-art 3D rendering will bring to life the client's vision. Once finalized the ECD team will source the base vehicle and bring it back to its facility for a ground-up, custom restoration.
The first E-Type off the line is Project Dallas Commission – a thrilling Series III roadster, perfect for cruising through idyllic countrysides and past jaw-dropping coastlines alike.
"When we added our south production line, my co-founders and I knew it needed to focus on a brand-new type of build that excited us as much as our Land Rover restorations do. Project Dallas Commission is the culmination of over a year of research and development – and it shows in the quality we achieved. It's a refined heritage E-Type our client couldn't have gotten anywhere else in the world," said ECD CXO and co-founder Tom Humble.
Project Dallas Commission instantly transports the driver back to an era of glitz and glamour. Its glossy historic Jaguar green exterior color paired with the tan Napa leather hood and all new chrome accents call back to classic old Hollywood. Powered by a Corvette LT1 engine and retrofitted with an eight-speed automatic transmission, the ultra-chic roadster makes for a modern driving experience unlike any other. Handmade Borrani wheels and custom luggage rack finish the film-ready restored Jaguar E-Type for the bi-coastal weekend escapades.
Unlike the 1960s Jaguar E-Types, ECD's version features heated OEM style seats for the driver and their plus one in premium Spinneybeck leather. The matching leather dash has a Trophy original style steering wheel with chrome spokes to match exterior accents, bringing classy style and comfort to the old-school-inspired sports car. Project Dallas Commission is finished off with a drool-worthy audio system with Bluetooth on top of advanced tech including a push start button, blind spot assistance and automatic headlights.
ECD plans to hand-build 10 to 12 custom E-Type builds a year. For more information on how to build your own restored Jaguar E-Type, please visit ecdautodesign.com.
Project Dallas Commission
High-resolution images and video are here.
Series — III
Body Style — Roadster
Engine — LT1
Transmission — 8-speed automatic
Suspension — Enhanced sports suspension
Brakes — Fosseway High Performance with six pistons in front and four pistons in rear
Exhaust — OEM Style Fantail with quad center exhaust outlet
Exterior
Paint Color — Sherwood Green in Gloss
Wheels — 15" Borrani
Tires — Michelin Cross Climate
Bumper — Chrome
Additional Features — Luggage rack
Interior
Front Seats — OEM style, heated and ventilated
Leather Color — Spinneybeck Sabrina 2006
Seat Design — Fluted vertical single stitch
Dash – OEM Series 3 wrapped in Spinneybeck Sabrina 2006
Carpet — Martin Robey tan
Steering Wheel — Tourist Trophy original Jag style wheel
Gauges — Moal Bomber
Hood – Tan
Audio & Electronics
Infotainment — Retrosound classic look stereo with Bluetooth
Sound System — JL Audio speaker and Kenwood Slimline subwoofer
Additional Features — Four USB ports, push start button, Bluetooth, automatic headlights, blind spot assistance
About ECD Auto Design
ECD Auto Design is a creator of restored luxury vehicles that combines classic English beauty with modern performance. Each vehicle produced by ECD Auto Design is fully bespoke, a one-of-a-kind that is designed by the client through an immersive luxury design experience and hand-built from the ground up in 2,200 hours by master-certified ASE craftsmen. The company was founded in 2013 by three British "petrol heads" whose passion for classic vehicles is the driving force behind exceptionally high standards for quality, custom luxury vehicles. ECD Auto Design's global headquarters, known as the "Rover Dome," is a 100,000-square-foot facility located in Kissimmee, Fla. that is home to 65 talented craftsmen and technicians, who hold a combined 61 ASE and five master level certifications. ECD Auto Design, though an affiliated company, operates a logistics center in the U.K. where four employees work to source and transport 25-year-old work vehicles back to the U.S. for restoration. 
Media Contact
Uproar PR for ECD Auto Design
Christine Skofronick
[email protected]
A photo accompanying this announcement is available at https://www.globenewswire.com/NewsRoom/AttachmentNg/434af2e2-1060-4082-9bd3-c9425209c388

Disclaimer: The above press release comes to you under an arrangement with GlobeNewswire. AutoExcelsior.com takes no editorial responsibility for the same.