E.C.D. Automotive Design's Menacing Defender Will Obliterate Any Obstacles
The custom one-of-one luxury offroader is black from its stained teak wood flooring to the engraved steering guard
E.C.D.'s latest build – Project Mayhem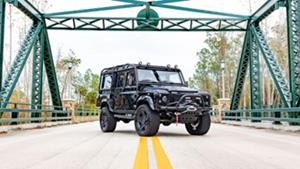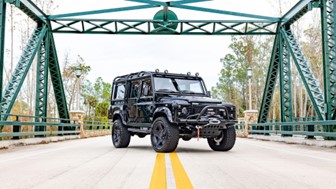 KISSIMMEE, Fla., Jan. 24, 2023 (GLOBE NEWSWIRE) — E.C.D. Automotive Design (E.C.D.), the world's largest Land Rover restoration company internationally renowned for its bespoke luxury builds, unveils Project Mayhem. Midnight-black from screws to rims to exhaust pipes, this classic Defender 110 is equipped with a supercharged LT4 engine for adventures on the snow-capped peaks and sprawling desert landscapes of Utah.
"Project Mayhem is a very traditional E.C.D. build. It's all black, it's aggressive, it's mean – completely modernized to take on any obstacle on or off-road," said E.C.D. Co-Founder Tom Humble. "Our master craftsmen stripped this old Defender down to its bare bones and brought it back to life as an offroading demon."
Painted in Santorini Black and intimidatingly dark from the inside out, Project Mayhem is designed for the hard trails and harsh conditions of its high elevation home. Toward the front of the vehicle, the steering guard features the word "mayhem" engraved with black plate – defining the vintage Defender's second life as a menacing truck. It sits on 33" BF Goodrich All Terrain tires and 20" Khan Mondial Retro wheels with black Brembo calipers, making its road presence undeniably ominous. Other offroading upgrades include a full rear window cage kit, roll cage, E.C.D. Air Ride suspension and four Hella LED lights.
Inside, Project Mayhem features a MOMO Nero steering wheel and All American gauges. Designed to seat the whole family, it has four heated Corbeau Reclining Racing Seats wrapped in Hans Reinke steel-colored leather with vertical diamond single stitching and room for four more in the back with inward-facing bench seats. To safely store the owner's valuables, the build features locked floor storage. The interior is finished off with black-stained teak wood on the cargo flooring, back panels and back door gate and a sunroof providing 360 degree views for the whole family. Other deluxe upgrades include audiophile-grade Infinity Kappa subwoofer and speakers – perfect to blast music out during nighttime adventures – WiFi, four wireless charging ports and three USB ports.
For more information on how to build your own vehicle, please visit ecdautodesign.com.
Project Mayhem
High-resolution images and video are here.
Model — Defender 110
Engine — GM LT4
Transmission — 8-Speed Automatic
Axles — Upgraded Limited Slip Differential, Upgraded Internals
Suspension — E.C.D. Air Ride
Brakes — Brembo brakes with black calipers
Exhaust — Quad exhaust with black ceramic coating
Exterior
Paint Color — Santorini Black in Gloss
Roof Top Color — Santorini Black in Gloss
Wheels — 20" Kahn Mondial Retro
Tires — 33" BF Goodrich All Terrain
Grille — Black mesh
Bumper — Tubular A frame with side extension arms and 2 small rectangular LED lights on bar
Additional Features — Black Defender lettering on hood, Sunroof, Steering Guard with "Mayhem" engraved
Interior
Seat Layout — 2+2+4
Front Seats — Corbeau Reclining Racing Seats, Heated and Ventilated
Mid Row Seats – Corbeau Reclining Racing Seats, Heated and Ventilated
Load Area Seats — 2 Inward Facing Benches
Leather Color — Hans Reinke 1912B Schwarz Catania
Seat Design — Vertical diamond single stitch
Dash – Puma wrapped in Hans Reinke 1912B Schwarz Catania leather
Carpet — Black
Steering Wheel — MOMO Nero
Gauges — All American
Additional Features — Teak wood in cargo area floor, back panels and back door gate, Locked storage in front floors
Audio & Electronics
Infotainment — Touchscreen Kenwood eXcelon
Sound System — Infinity Kappa speakers and subwoofer
Additional Features — 3 wireless chargers, 3 USB ports, WiFi, front and rear cameras
About E.C.D. Automotive Design
E.C.D. Automotive Design (E.C.D.) is a creator of restored luxury vehicles that combines classic English beauty with modern performance. Each vehicle produced by E.C.D. is fully bespoke, a one-off that is designed by the client through an immersive luxury design experience and hand-built from the ground up in 2,200 hours by master-certified ASE craftsmen. The company was founded in 2013 by three British "petrol heads" whose passion for classic vehicles is the driving force behind exceptionally high standards for quality, custom luxury vehicles. E.C.D.'s global headquarters, known as the "Rover Dome," is a 100,000-square-foot facility located in Kissimmee, Fla. that is home to 63 talented craftsmen and technicians, who hold a combined 61 ASE and five master level certifications. E.C.D. has a logistics center in the U.K. where its seven employees work to source and transport 25-year-old work vehicles back to the U.S. for restoration. 
Media Contact
Uproar PR for E.C.D. Automotive Design
Christine Skofronick
[email protected]
A photo accompanying this announcement is available at https://www.globenewswire.com/NewsRoom/AttachmentNg/afb7286b-759d-4375-ace8-d1608573de90

Disclaimer: The above press release comes to you under an arrangement with GlobeNewswire. AutoExcelsior.com takes no editorial responsibility for the same.