Clean Motion to design and develop a premium luggage-trailer for NEOM Airport
EVIG, Luggage Trailer Concept-Sketch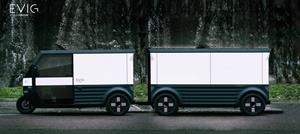 The electric vehicle manufacturer Clean Motion has started the design of a premium luggage trailer for their solar-powered vehicle EVIG, where the trailer is going to be used for the transportation of luggage from NEOM Airport to Sindalah Island.
The order comes as an extension of the existing framework agreement signed in May, where Clean Motion is to deliver a tailor-made solution for 'last-mile delivery' on Sindalah Island.
EVIG's design language and components will be the base for the trailer, and the goal is to begin deliveries during Q1 2024.
Christoffer Sveder, Commercial Director at Clean Motion, says, "This new design project is an exciting opportunity and a testament to our growing collaboration with NEOM."
NEOM, located in northwest Saudi Arabia, is a visionary infrastructure project built from scratch. The island of Sindalah, in the Red Sea, is set to be the first destination to welcome visitors at the beginning of 2024. Clean Motion's comprehensive last-mile delivery system, which includes vehicles, trailers, and roll cages, will be responsible for streamlining logistics on the island.
For further information, please contact:
Christoffer Sveder, Commercial Director                
Clean Motion AB                        
Phone: +4670 611 26 98                        
Email: [email protected]
About Clean Motion AB
Clean Motion AB is a Swedish company that manufactures and sells truly sustainable vehicles for cities. The vehicles are locally produced and based on energy and resource efficiency, to maximize the adoption of electric vehicles globally. The company vision is to offer urban mobility-charged with solar energy and therefore offers light electric vehicles with low energy consumption to meet the urban transport challenges of the 2000s.
Clean Motion AB is listed on First North Growth Market on Nasdaq Stockholm. Certified Adviser is G&W Fondkommission. For further information, please visit: https://www.cleanmotion.se
information, vänligen besök: https://www.cleanmotion.se/.
Attachment
EVIG, Luggage Trailer Concept-Sketch

Disclaimer: The above press release comes to you under an arrangement with GlobeNewswire. AutoExcelsior.com takes no editorial responsibility for the same.