Classic Parade introduces a Supercar "Try Before You Buy" program in Europe
Classic Parade introduces a Supercar "Try Before You Buy"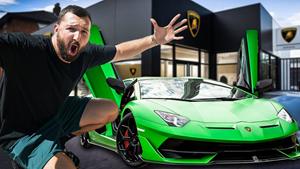 LONDON, Feb. 07, 2023 (GLOBE NEWSWIRE) — Investing in a luxury vehicle is a major decision; buying a new car is an experience that many individuals navigate, but the decision requires smart financial planning, especially when buyers are considering purchasing a luxury vehicle. With the new "Try Before You Buy" Program through https://www.classicparade.co.uk, potential buyers have the opportunity to test a vehicle out for an ample amount of time before making a decision on whether or not to buy it.
This program will allow prospective buyers to hire a supercar to get a feel for the vehicle before making any investment decisions. Classic Parade's customizable hire terms give prospective car buyers the opportunity to test out vehicles in many different settings, terrains, and weather events. Because of the large selection of vehicles available at Classic Parade, customers can request to hire the exact make and model that they are thinking about buying.
Classic Parade has over 15 years of experience in the luxury vehicle space. This program gives customers the chance to ask questions during the hiring process and resolve any concerns before buying a vehicle. Accessing the truth about a vehicle at a dealership can be challenging; the sales team for even the highest-end cars is going to paint a picture that is favourable to making a sale, but by working with a third-party service, that pressure to purchase is not present.
Once a vehicle is purchased, if the buyer takes it home to find that it does not fit in their garage or that the colour gets dirty quickly, the vehicle will have already depreciated in value, making it impossible to recoup the losses on their investment. Illustrating this reality, a recent buyer purchased a 911 Carrera without sufficiently testing it, found issues with the vehicle, and lost £27,000 in under three weeks.
Reserving a supercar through the "Try Before You Buy" Program can be done online, over the phone, or in person. Prospective clients will need to submit the vehicle they are looking to test as well as the timeframe of the reservation. Once completed, Classic Parade will ship the vehicle to the customer, and when the hire is complete, a pick-up or drop-off will be arranged. Each hire comes with insurance for two drivers, ensuring that partners both get the chance to test drive a vehicle prior to finalizing the purchase.
Luxury vehicles can cost upwards of £200,000, and when that much money is at stake, taking precautions to ensure the investment is advisable. Classic Parade's "Try Before You Buy" Program is a new form of buyer protection that has not been readily available to the public until now. The Classic Parade team can be reached at [email protected] or +44 (0) 333 355 3595. The team is available 24 hours, 7 days a week to answer questions or finalize supercar hire details.
Contact                                                                
Classic Parade                                                
+44 (0) 333 355 3595
[email protected] 
A photo accompanying this announcement is available at https://www.globenewswire.com/NewsRoom/AttachmentNg/0c17c098-ac4f-4406-b7b8-36de97ac22b2

Disclaimer: The above press release comes to you under an arrangement with GlobeNewswire. AutoExcelsior.com takes no editorial responsibility for the same.