CARUSO and Toyota team up to enable the creation of next-gen Fleet Management Solutions with connected car data
The joint approach gives fleet customers of CARUSO access to real-time consented data from connected Toyota's enabling transparent fleet management.
Joined Forces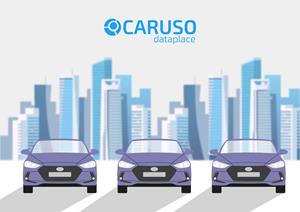 MUNICH, Germany, Sept. 20, 2023 (GLOBE NEWSWIRE) — CARUSO announces its partnership with Toyota to optimize connected car data for innovative fleet management solutions. By harnessing the power of telematics data generated by Toyota vehicles, the partnership aims to effectively tackle the complexity of in-vehicle data. With CARUSO at the helm providing vast standardization, specialized consultancy along with complementary services, their fleet customers can focus on enhancing their business operations by integrating in-vehicle data in their products. Using connected car data as a fleet ushers in a new wave of possibilities such as tracking vehicle mileage, maintaining detailed logbooks, among others. This diminishes the Total Cost of Ownership for fleets and facilitates highly efficient, data-driven decision-making.
Marvin Inden-Lohmar, Manager Data Business & Privacy at Toyota Motor Europe, said about the partnership. "We are delighted to have CARUSO become one of our fleet-management partners and continue providing Toyota customers with high-impact value. By utilizing connected vehicle data, we are helping their partners gain actionable insights that will enable them to achieve a safer and more efficient fleet."
Speaking about the collaboration, Norbert Dohmen, Managing Director of Caruso GmbH said, "Richer data sets from connected vehicles are essential for digitizing commercial fleet operations and reducing total ownership costs for fleet managers. Our collaboration with Toyota will enable us to provide even more multibrand, standardized data and enable solution providers to solve fleet-facing challenges, without the need for external hardware. We are happy to be working with Toyota together."
This partnership between CARUSO and Toyota is poised to augur a new era in the realm of logistics and fleet management, ushering in an unprecedented level of efficiency and sophistication.
Potential customers interested in leveraging the new agreement and services provided by CARUSO, can explore further details on their website, https://www.caruso-dataplace.com/fleet-management/.
About Caruso GmbH
From Connected Cars to Connected Business. CARUSO is a neutral, open, and secure marketplace for mobility data. The platform enables third parties to consume data standardized across multiple vehicle manufacturers. Additionally, their built-in consent management technology ensures data privacy by giving vehicle end-users full control over data sharing. With that, CARUSO empowers its customers to easily build life-improving solutions based on data from connected cars.
More information www.caruso-dataplace.com.
Company Contact
Tina Rauschenbach
Head of Customer Experience
[email protected]
A photo accompanying this announcement is available at https://www.globenewswire.com/NewsRoom/AttachmentNg/db36a8ae-5f44-4cfa-b9d5-dff48b339c73

Disclaimer: The above press release comes to you under an arrangement with GlobeNewswire. AutoExcelsior.com takes no editorial responsibility for the same.