Arcimoto Inc. Strengthens Focus Through Commercial Partnership and Joint Investment Agreement with Faction Technology Inc. to Co-Develop Driverless Vehicle Platforms
Arcimoto Assembly Line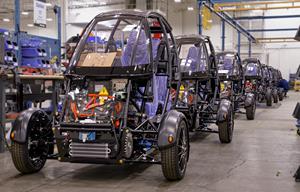 EUGENE, Ore. and SAN FRANCISCO, May 09, 2023 (GLOBE NEWSWIRE) — Arcimoto, Inc. (NASDAQ: FUV) the leading North American manufacturer of ultra-efficient and affordable electric vehicles and Faction Technology, Inc. a self-driving technology provider, today announced a strategic and joint investment agreement to scale driverless vehicle fleets.
The agreement builds upon a long partnership between the two companies and will further enhance Arcimoto's position in the passenger, commercial and industrial mobility market by adding strong innovation capabilities in driverless vehicle technology from Faction.
The combination of Faction's DriveLink® and TeleAssist® technologies allows Arcimoto platform vehicles to integrate vehicle-side AI driving capabilities blended with best-in-class remote human teleoperation. This combined technology stack builds on the core strengths of the Arcimoto platform, including a top speed of 75 mph and a range of just over 100 miles. Faction's technology can be applied to any variant of the Arcimoto vehicle, providing a customizable and versatile solution for fleet customers in the logistics and transportation sectors. By integrating their respective technologies, Arcimoto and Faction aim to offer a highly efficient, eco-friendly, and cost-effective solution for urban mobility, while also reducing carbon emissions.
Chris Dawson, Arcimoto CEO, said, "Arcimoto's mission to deploy ultra-efficient electric vehicles at scale is now further strengthened by incorporating Faction's pragmatic blend of on-board vehicle AI and remote human supervision technology into our platform. Combining Arcimoto's robust engineering capabilities with Faction's self-driving technology will enable us to provide highly customizable, sustainable and cost-effective transportation solutions to commercial customers. This commercial agreement memorializes a significant step forward together and we are excited for our continued collaboration."
The combination of Faction's technologies and Arcimoto's current and new vehicles will provide customers with autonomous technologies, allowing them to be more sustainable and energy efficient.
"Developing a scalable driverless vehicle system requires a fundamental shift of the engineering design, starting from the chassis up. Partnering with Arcimoto allows us to accelerate the deployment of driverless fleets, far surpassing the capabilities of legacy vehicle designs," stated Ain McKendrick, CEO of Faction. "The Arcimoto platform has been thoughtfully designed with scalability and driverless technology in mind, making it an ideal platform for the integration of self-driving technology. The collaborative efforts of our engineering teams have resulted in a plan for the mass production of scalable driverless vehicles with minimal configuration changes to the expanding Arcimoto production line."
Faction and Arcimoto have identified fleet customers in the logistics and transportation sectors as their primary target market for their driverless electric vehicle solution. Both companies share the belief that right-sizing these vehicles will provide a significant boost in efficiency, reduce carbon emissions and offer cost savings over existing urban mobility offerings. The combination of Faction's self-driving technology with Arcimoto's ultra-efficient and affordable electric vehicles offers a highly scalable solution that can be quickly deployed to meet increasing demand for efficient transportation.
Minority Investment Agreement
In addition to the expanded commercial development relationship, Arcimoto and Faction have announced an investment agreement that provides a minority investment in each other. Under the agreement, Arcimoto will receive one or more SAFE notes for an aggregate total of up to 10% of Faction in exchange for an equity stake in Arcimoto. The partnership aims to leverage the strengths of each company to drive innovation and growth in the electric vehicle and driverless technology space, with a focus on being the most eco-friendly and socially responsible solutions for mobility. The investment agreement memorializes the mission alignment of both companies as they continue to pursue their shared vision of a more sustainable future.
About Faction Technology, Inc.
Faction is a Silicon Valley startup that develops driverless solutions based on light electric vehicles. Founded in February 2020, Faction is on a mission to revolutionize micro-logistics and vehicle-on-demand. The company believes the future of sustainable transportation is to enable driverless vehicles that are safe, cost-effective, and right-sized to serve a range of use cases for business and passenger transportation needs. For more information visit www.faction.us
About Arcimoto, Inc.
Arcimoto (NASDAQ: FUV) is a pioneer in the design and manufacture of rightsized, ultra-efficient, incredibly fun electric vehicles for everyday mobility. Built on the revolutionary three-wheel Arcimoto Platform, its vehicles are purpose-built for daily driving and local delivery, all at a fraction of the cost and environmental impact of traditional gas-powered vehicles. Based in Eugene, Oregon, the Arcimoto team is dedicated to creating world-class EVs that make the world a better place. For more information, please visit Arcimoto.com.
Media Contacts
Arcimoto
Megan Kathman
(651) 785-3212
[email protected]
Faction / Spark PR
[email protected]
Safe Harbor / Forward-Looking Statements
Except for historical information, all the statements, expectations, and assumptions contained in this press release are forward-looking statements. Forward-looking statements include, but are not limited to, statements that express our intentions, beliefs, expectations, strategies, predictions, or any other statements relating to our future activities or other future events or conditions. These statements are based on current expectations, estimates and projections about our business based, in part, on assumptions made by management. These statements are not guarantees of future performance and involve risks, uncertainties and assumptions that are difficult to predict and include, without limitation, our expectations as to vehicle deliveries, the establishment of our service and delivery network and our expected rate of production. Therefore, actual outcomes and results may, and are likely to, differ materially from what is expressed or forecasted in the forward-looking statements due to numerous factors discussed from time to time in documents which we file with the SEC. In addition, such statements could be affected by risks and uncertainties related to, among other things: our ability to manage the distribution channels for our products, including our ability to successfully implement our rental strategy, direct to consumer distribution strategy and any additional distribution strategies we may deem appropriate; our ability to design, manufacture and market vehicle models within projected timeframes given that a vehicle consists of several thousand unique items and we can only go as fast as the slowest item; our inexperience to date in manufacturing vehicles at the high volumes that we anticipate; our ability to maintain quality control over our vehicles and avoid material vehicle recalls; the number of reservations and cancellations for our vehicles and our ability to deliver on those reservations; unforeseen or recurring operational problems at our facility, or a catastrophic loss of our manufacturing facility; our dependence on our suppliers; changes in consumer demand for, and acceptance of, our products: changes in the competitive environment, including adoption of technologies and products that compete with our products; the overall strength and stability of general economic conditions and of the automotive industry more specifically; changes in laws or regulations governing our business and operations; costs and risks associated with potential litigation; and other risks described from time to time in periodic and current reports that we file with the SEC. Any forward-looking statements speak only as of the date on which they are made, and except as may be required under applicable securities laws, we do not undertake any obligation to update any forward-looking statements.
A photo accompanying this announcement is available at https://www.globenewswire.com/NewsRoom/AttachmentNg/2ee0e2fe-7a3c-43e5-88e7-032e5b257ef3

Disclaimer: The above press release comes to you under an arrangement with GlobeNewswire. AutoExcelsior.com takes no editorial responsibility for the same.